If you have to ask yourself when to implement security, you probably need a time machine!
Security is as important to your migration as the actual workload you are moving to the cloud. Read that again.
It is essential to be planning and integrating security at every single layer of both architecture and implementation. What I mean by that, is if you're doing a disaster recovery migration, you need to make sure that security is ready for the infrastructure, your shiny new cloud space, as well as the operations supporting it. Will your current security tools be effective in the cloud? Will they still be able to do their task in the cloud? Do your teams have a method of gathering the same security data from the cloud? More importantly, if you're doing an application migration to the cloud, when you actually implement security means a lot for your cost optimization as well.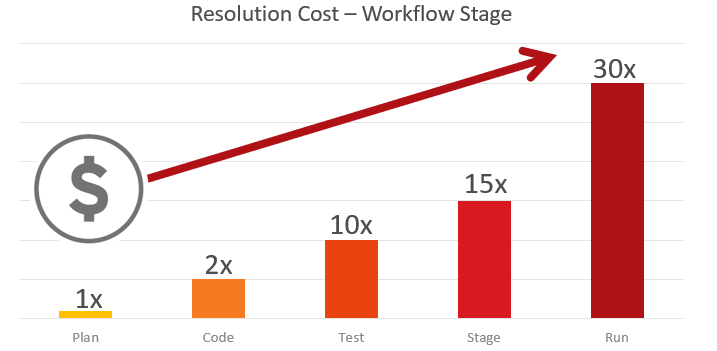 NIST Planning Report 02-3
In this graph, it's easy to see that the earlier you can find and resolve security threats, not only do you lessen the workload of infosec, but you also significantly reduce your costs of resolution. This can be achieved through a combination of tools and processes to really help empower development to take on security tasks sooner. I've also witnessed time and time again that there's friction between security and application teams often resulting in Shadow IT projects and an overall lack of visibility and trust.
Start there. Start with bringing these teams together, uniting them under a common goal: Providing value to your customer base through agile secure development. Empower both teams to learn about each other's processes while keeping the customer as your focus. This will ultimately bring more value to everyone involved.
At Trend Micro, we've curated a number of security resources designed for DevOps audiences through our Art of Cybersecurity campaign.  You can find it at https://www.trendmicro.com/devops/.
Also highlighted on this page is Mark Nunnikhoven's #LetsTalkCloud series, which is a live stream series on LinkedIn and YouTube. Seasons 1 and 2 have some amazing content around security with a DevOps focus – stay tuned for Season 3 to start soon!
This is part of a multi-part blog series on things to keep in mind during a cloud migration project.  You can start at the beginning which was kicked off with a webinar here: https://resources.trendmicro.com/Cloud-One-Webinar-Series-Secure-Cloud-Migration.html.
Also, feel free to give me a follow on LinkedIn for additional security content to use throughout your cloud journey!
Jason Dablow, Principal Sales Engineer at TrendMicro